Turkish & Afghan Large Floor Cushions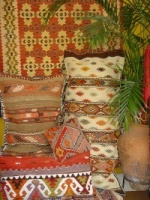 Unusual and stunningly textured authentic hand knotted and hand-woven carpet and kilim storage/grain sacks and cushions from Turkey and Afghanistan that function fabulously as floor cushions and dating from the 1940's to the 1970's. We hope that you will find what you are looking for as we pride ourselves on being the oriental rug shop with the largest selection of these sacks in the UK.
Turkish and Afghan Carpet Sacks/Pillows - these pieces are all original and have lovely soft hand knotted wool carpet weave fronts and hand-woven kilim weave on the reverse.
Turkish Kilim Sacks/Pillows – again all pieces are original and hand-woven with kilim weave on front and reverse.
All of the sacks/cushions shown here are in stock at our Brighton shop. Prices do not include stuffing. If you purchase without fillers you will need to sew up your cushion to close it as they are original village pieces and don't have zips. The recommended size filler is available by ticking the box next to the product. If you purchase a filler we will sew up your cushion ready for use. Either buy online for fast UK and Worldwide delivery or take the opportunity to browse through to get an idea of what is available before visiting us in Brighton.
Note: we do not ship some of the larger fillers outside the UK Mainland, this is to keep postage costs to a minimum; instead you can fill the cushion yourself with one or two duvets in order to stuff it.