Cleaning
We offer an excellent and unrivalled cleaning service using traditional, professional equipment imported from Turkey and designed especially for the job. It is a deep down thorough clean and not just a surface clean.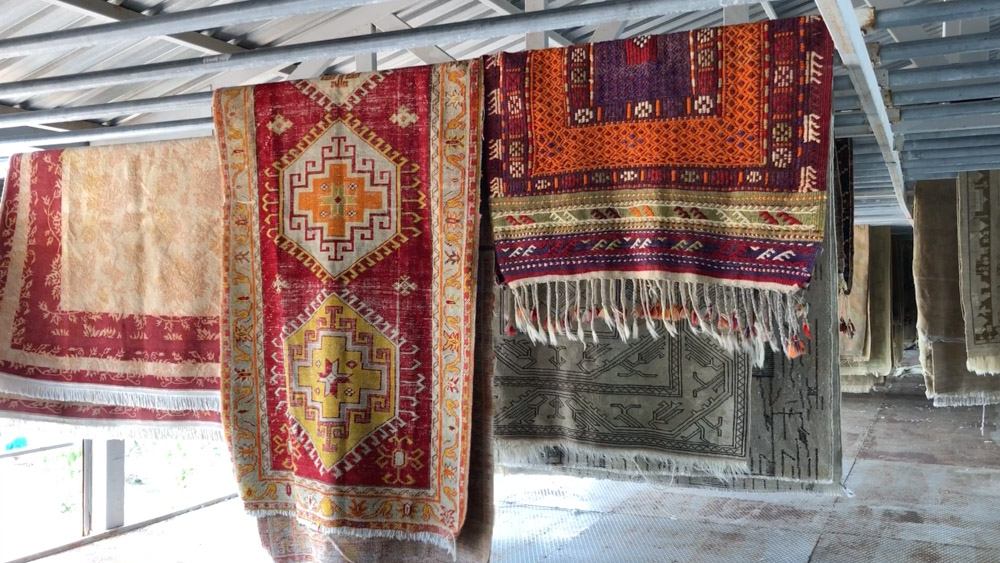 This type of cleaning can bring back the wool lustre (on pile rugs) and generally brighten the colours giving the rug a new lease of life. You will be pleasantly surprised at the results.
First your rug is slowly spun in order to dislodge any dust or grit (which wears the rug), followed by a meticulous hand washing using solutions to reduce the risk of any colour run. Your rug is then thoroughly dried.
We can clean the majority of hand-woven oriental rugs, kilims or machine made rugs, you will need to bring your rug to our shop in order to have a cleaning assessment and quote.
Pricing
We charge £40 per square metre (inc vat) up to 6 square meters. Any rug that is 6 square metres and over as well as extra thick pile rugs of any size such as Chinese rugs are charged at £50 per square meter (inc vat). There is a minimum charge of £80 (inc vat).
Silk rugs - individually priced.
Note: We ask that you collect your rug within one week of our notifying you of it being ready for collection.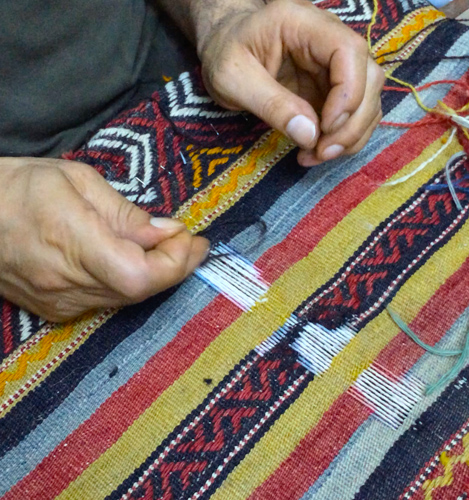 Repairs
We carry out all kinds of rug repairs and restoration (subject to the general condition of the rug ie if the rug is very threadbare, rotten or generally in bad condition we may not be able to carry out repairs).
Restoration and re-weaving of holes
Tears
Fraying of selvedge (edges)
Unravelling of fringes
Re-piling
Any repairs will need to be assessed and quoted for upon us being able to see your rug at our shop, you may need to leave your rug with us for a few days in order that our repairman can assess the work.
One of the inexpensive and common repairs we carry out are the fringes at the ends of the rug - over time these can become unravelled and, if left, could result in more expensive repairs being required.
All rugs undergoing repairs will need to go through our cleaning process beforehand.
See our video blog giving you an idea of how Kilim Repairs are carried out.