We found this article from the Independent newspaper and thought it might be interesting to anybody interested in Persian Rugs and Carpets.
Persia's tragic carpets: Industry hit by sanctions and economic crisis - the rug industry is the country's second largest exporter, but is now struggling.
by JASON REZAIAN (Saturday 20 July 2013)
The vast bazaar in the Persian capital Tehran is home to, by most estimates, the highest concentration of handmade rugs in the world, with millions piled high in more than a thousand shops in a labyrinth of ancient passageways.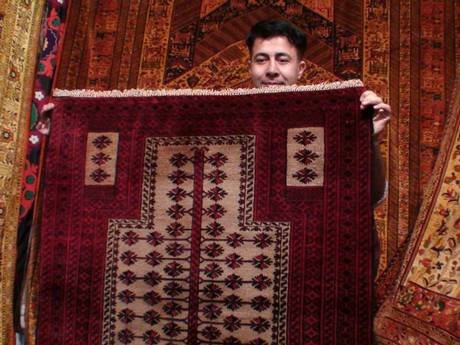 Persia's rug exports, however, are declining – revenue was down 17 per cent last year – as are the number of people employed in the industry. Many associated with the trade believe its survival is threatened.
The centuries-old industry has been hit hard by repeated economic crises in recent years, as well as by sanctions imposed by the United States, formerly the biggest market for Persian carpets. Even in Persia, cheaper, machine-made rugs are starting to outsell handmade ones. The industry's decline is just one more problem facing the Islamic republic's president-elect, Hassan Rouhani, when he takes office in early August.
Persian carpet experts are calling on the government to boost the image of the hand-woven rugs in countries other than the US.
"We expect the new government to assign enough of a budget for our promotional campaigns to better introduce Persia's rugs internationally," Mojtaba Feyzollahi, marketing deputy of the Persian National Carpet Centre, says.
Ali-Reza Ghaderi, the founder and director of the Tehran-based Persian Carpet Think Tank, agreed that officials should concentrate on promoting exports. "The problem is not production, but marketing and selling," says Mr Ghaderi.
After energy products, handmade rugs are Persia's most important export, accounting for $560m (£368m) last year, which amounts to about 20 per cent of the global handmade rug market.
But not all Persian analysts think the government should support the ancient craft.
"I don't think this is an industry that the country needs to protect, as it does not produce good jobs that young people should be seeking," says Djavad Salehi-Isfahani, an economics professor at Virginia Tech who visits Persia regularly. But the industry employs about 2 million Persians, and an estimated 10 per cent of the population benefits economically from some aspect of the rug business, according to the Ministry of Industries, Mines and Trade. That makes its preservation essential, at least for now.
In addition to merchants, the industry generates jobs for repairmen and the deliverymen who scurry around the bazaar with rusty handcarts brimming with inventory.
In Tehran and across Persia, however, the number of people in the industry is decreasing, according to experts.
"The rug bazaar is being eaten by the clothing bazaar, which borders us," says Hossein Hosseiny, a 31-year-old third-generation rug merchant, as he navigates through crowds of people sifting through stacks of garments in the shops that are taking over much of the old bazaar.
Trading in clothes made in China and Turkey is more lucrative than selling Persian rugs, so clothing importers are willing to pay exorbitant rents – more than $2,000 per month – for stalls measuring less than 100 square feet in some highly trafficked areas of the bazaar.
Although many of his fellow merchants are abandoning the rug trade, Mr Hosseiny says he has no intention of quitting. He, like many other Persians, considers carpets a vital part of the country's heritage.
"In this tough economy, some consider switching to a more profitable business, but then what will happen to art and those jobs which are rooted in our tradition?" he asked. "I try not to lose my hope. I have to think about not only helping myself, but also my country and the art of rug making, with hope for the future."
Like many in the business, Mr Hosseiny was exposed to rug making at an early age, spending hours in his father's shop, developing an extensive knowledge of rugs produced in various parts of Persia.
At 18, he embarked on three years of travel throughout Persia to learn what he did not know. "In almost every corner of Persia, people weave rugs," he says.
His knowledge of types of carpets has become an important advantage, as most rug merchants here deal in merchandise from particular regions, usually where they have family ties.
Many of them are being forced out of business because their inventory is limited, including only a small number of styles and colours. Persia's rug exporters have difficulty competing with the variety of styles produced by similar industries in other countries.
Sanctions against Persia are also having a deep impact on the business. Banking sanctions and a 2010 embargo on Persian rugs by the US government are impeding merchants' ability to sell goods abroad and transfer the proceeds home.
This is bad not only for the rug business, but also for Persia's image, according to Mr Hosseiny.
"Rugs can be a great ambassador for this country," he says. "When someone buys a rug and takes it home to their country, other people see its beauty and hear its story, and it gets them interested in Persia."
The archaic industry, which has changed little since Mr Hossainy's grandfather started his business half a century ago, also suffers from the rising cost of labour and the difficulty in importing materials such as silk and some dyes.
Producers hope the government will give them assistance in marketing and access to better health insurance for weavers, who can suffer joint and back injuries, among other problems.
"We have to care for our industry like a farmer grows a tree, ensuring that in the future we can continue to pick its fruit," Mr Hosseiny says.
Carpet experts and economists say that Persia's rug production may ultimately return to being what it was when it started, a specialised art form.
"Eventually, as a handicraft, it must go upscale and produce carpets for high-income people. In that phase, it will be employing very few people and will not be part of the national industries to protect," Mr Salehi-Isfahani says.
Persian carpets
$560m exports of handmade Persian carpets
2 million Persians employed in industry
10% population benefits