Afghan Carpet Cushions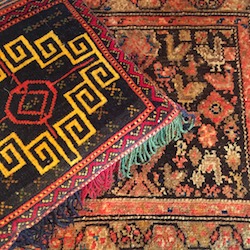 Original Tribal Afghan Baluch Scatter Cushion Covers. These nomadic cushions were originally tribal pieces used as grain and storage bags and are known as 'Chanta' or 'Balisht' for larger sizes, they also have an additional use as a pillow case.
They are usually hand knotted carpet pile on the front and finely hand-woven kilim on the reverse. All of these pieces are authentic and semi antique and have lots of character, if you purchase one of these cushions unstuffed you will need to sew it up yourself as they are original pieces without zips. Or you can easily add a filler to your basket and we will sew it up for you ready for use.
Either buy online for fast UK and Worldwide delivery to your home or visit our shop in Brighton, East Sussex for an unrivalled selection. We hope that you will find what you are looking for as we pride ourselves on being the oriental rug shop with the largest selection of these carpet cushions in the UK.