Large Ottoman Turkish Bolster Cushions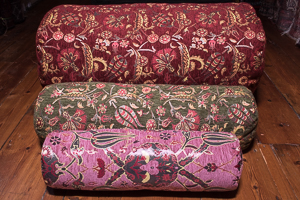 Fantastic Large Ottoman Turkish Bolster Cushions - these are very big bolsters and they measure approximately 42x85cm and are very sturdy when stuffed! They are great used on the floor. These huge Turkish Long round bolster cushions are available in three of our most popular colours ie Burgundy, Green and Cream. You can purchase them with hollow fibre filling but if you prefer to use your own filler you can purchase the Bolster unstuffed if you wish. We use two hollow fibre double duvets!
Note: we do not ship HF3 (large hollow fibre) fillers outside the UK Mainland, instead you can fill the cushion yourself with duvets in order to stuff it, this is to keep postage costs to a minimum.