The BBC reported on a recent Sotheby's sale!
6 June 2013
A 17th Century Persian rug has sold for $33.8m (£21.8m), a sum triple the previous auction record for a carpet.
The winning bid for the Clark Sickle-Leaf Carpet was made anonymously on Wednesday at Sotheby's in New York.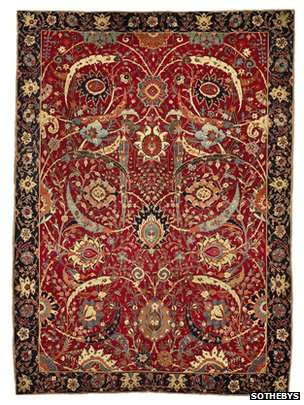 William Clark, an industrialist and US senator from Montana, had bequeathed the carpet and other items to the Corcoran Gallery of Art in 1926.
The Washington DC museum will use proceeds from the sale of that and 24 other rugs to fund future acquisitions.
The previous sale record was $9.6m for a Persian rug sold by Christie's in London in April 2010.
Sotheby's had forecast the sale price as high as $9m, and four bidders fought for more than 10 minutes over the carpet. The winning bid came over the telephone.
In a statement, Corcoran's director said the museum was "thrilled" by the results of the auction. The museum had held the carpet and several others in storage.
The carpet, dated to the first half of the 17th Century, is believed to be from Kerman in south-east Persia. It was last displayed in the Corcoran in 2008.
The auction house said the carpet had one of the most rare "vase" technique patterns and appeared to be the only known such rug with a red background.
BBC News (US & Canada)